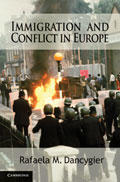 Cambridge University Press (Studies in Comparative Politics), 2010
2011 Choice Outstanding Academic Title
Winner of the 2011 Best Book Award given out by the European Politics and Society Section, American Political Science Association
Based on the 2007 Ph.D. dissertation "Immigration and Conflict", winner of the 2008 Gabriel A. Almond Award for the best dissertation in Comparative Politics, American Political Science Association
Contemporary debates give the impression that the presence of immigrants necessarily spells strife. Yet as Immigration and Conflict in Europe shows, the incidence of conflict involving immigrants and their descendants has varied widely across groups, cities, and countries. The book presents a theory to account for this uneven pattern, explaining why we observe clashes between immigrants and natives in some locations but not in others and why some cities experience confrontations between immigrants and state actors while others are spared from such conflicts. The book addresses how economic conditions interact with electoral incentives to account for immigrant-native and immigrant-state conflict across groups and cities within Great Britain as well as across Germany and France. I highlight the importance of national immigration regimes and local political economies in shaping immigrants' economic position and political behavior, demonstrating how economic and electoral forces, rather than cultural differences, determine patterns of conflict and calm.
---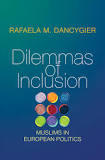 Princeton University Press, 2017
The entire book is also available on JStor (subscriptions might vary)
Winner of the 2018 Stein Rokkan Prize for Comparative Social Science Research presented by the International Science Council (ISC), the University of Bergen and the European Consortium for Political Research (ECPR).
Winner of the 2019 Luebbert Award, given out by the American Political Science Assoication for the best book in Comparative Politics published in the previous two years.
As Europe's Muslim communities continue to grow, so does their impact on electoral politics and the potential for inclusion dilemmas. In vote-rich enclaves, Muslim views on religion, tradition, and gender roles can deviate sharply from those of the majority electorate, generating severe trade-offs for parties seeking to broaden their coalitions. Dilemmas of Inclusion explains when and why European political parties include Muslim candidates and voters, revealing that the ways in which parties recruit this new electorate can have lasting consequences.
Drawing on original evidence from thousands of electoral contests in Austria, Belgium, Germany, and Great Britain, Dilemmas sheds new light on when minority recruitment will match up with existing party positions and uphold electoral alignments and when it will undermine party brands and shake up party systems. The book demonstrates that when parties are seduced by the quick delivery of ethno-religious bloc votes, they undercut their ideological coherence, fail to establish programmatic linkages with Muslim voters, and miss their opportunity to build cross-ethnic, class-based coalitions. Dilemmas highlights how the politics of minority inclusion can become a testing ground for parties, showing just how far their commitments to equality and diversity will take them when push comes to electoral shove.
Providing a unified theoretical framework for understanding the causes and consequences of minority political incorporation, and especially as these pertain to European Muslim populations, Dilemmas of Inclusion advances our knowledge about how ethnic and religious diversity reshapes domestic politics in today's democracies.